After creating your email account from the  /siteadmin area, you can proceed through the steps below to set up the account in your Outlook  email software. The steps below will show you how to set up an IMAP account; this is generally your best choice if you will be using multiple devices to check the same account.
The video below uses the example email address bob@your-store.biz
The steps below follow  an example email account joe@your-store.biz
Steps:
1. Click "File" –>Account Settings–>Manage Profiles–>Setup Email Accounts->New button

Then click Account Settings Button –> Manage Profiles  (appears below button) –> Email Accounts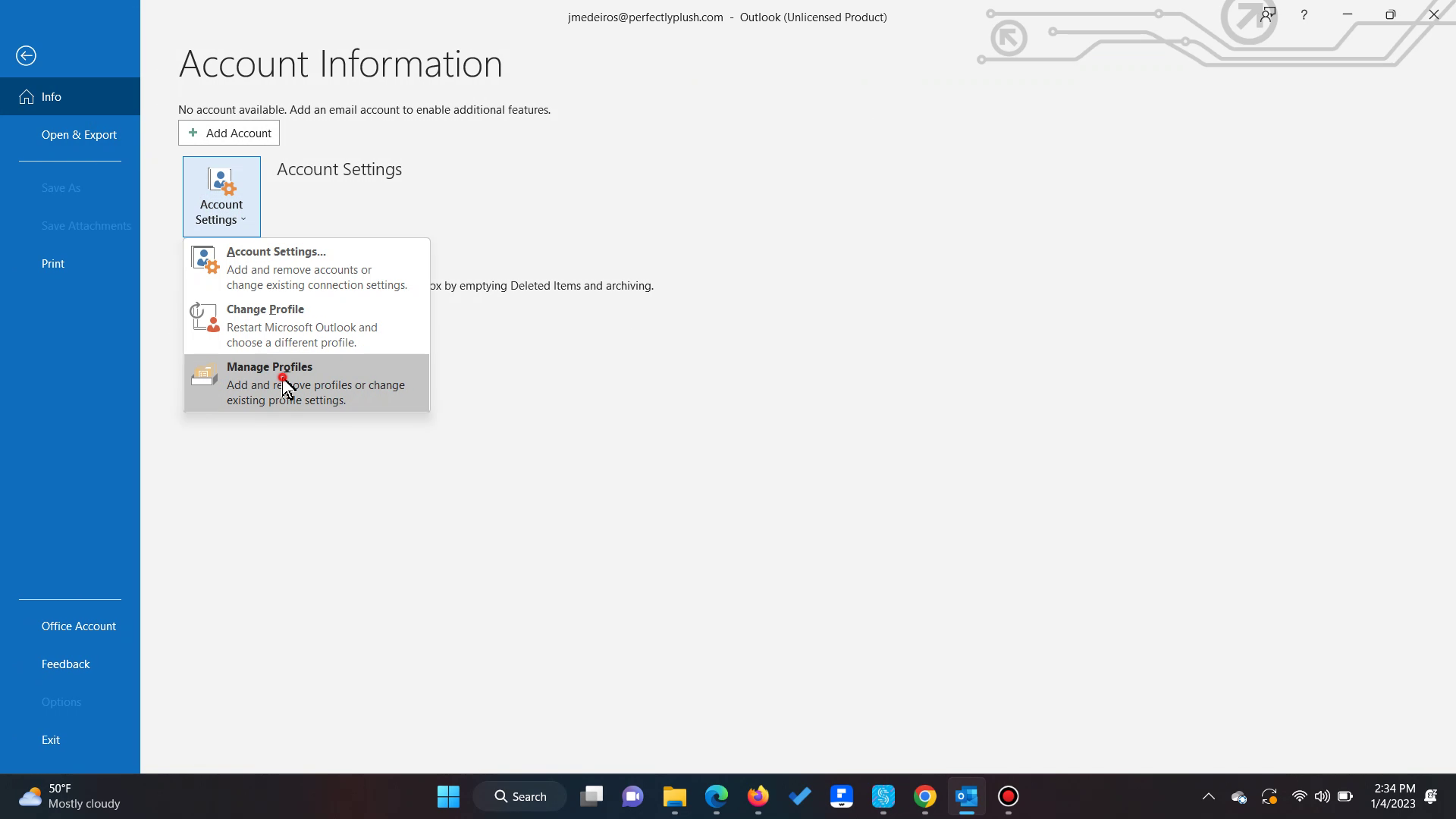 2. In the window that pops up, click the "New" to create a new account or "Change" to change your existing account. See screenshot below:
3. After clicking on "New", you will see the screen below. Fill in your name, and your email address as you would like your customers to see it. Then select "Manual Setup" and the "Next" button; this will be the easiest way to get all the email settings right.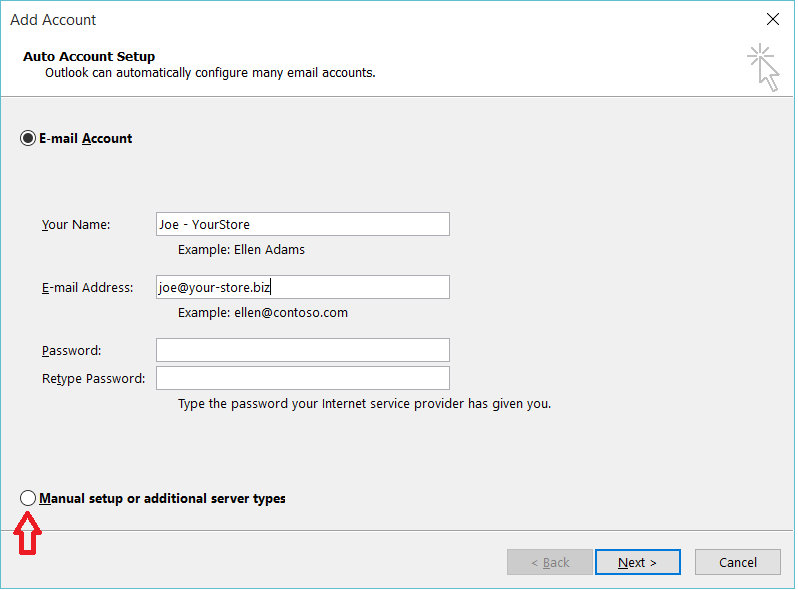 4. The next screen will give you three options Exchange, Outlook.com, or "POP or IMAP". Select the last option which is "POP or IMAP". After that, the screen below will appear; on this screen (below)
a. Set the account type to IMAP
b. Type in the incoming and outgoing mail server to the server name; this will work best for avoiding certificate warnings. To see the server name type in your domain/admin in the browser. So, following our example, browse to  www.your-store.biz/admin  which will show you: server167.secure-access.net as the server name (remove the extraneous slashes etc.).
c. Set the username to just all lower case 'joe" not "joe@your-store.biz".
d. Type or paste in the password that you used for this account when you created it in your /siteadmin
e. Click "More Settings" button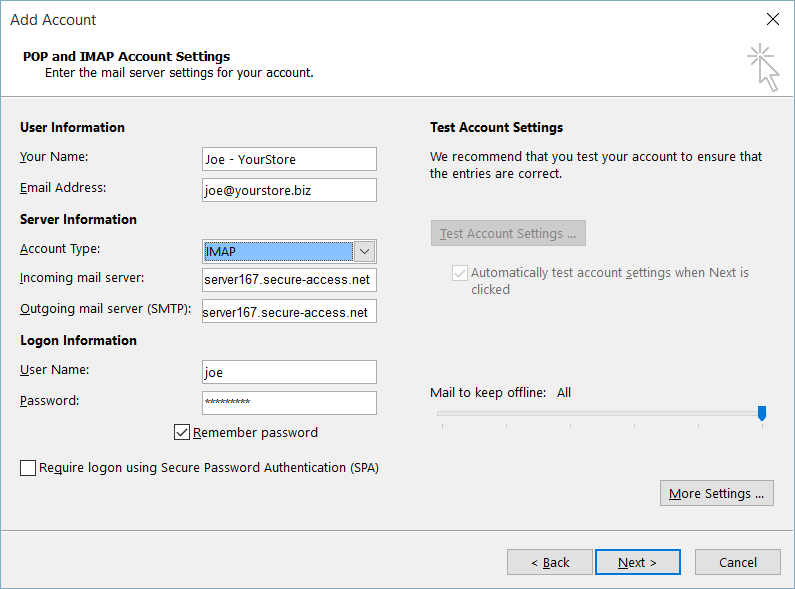 5. On the "More Settings" screen below, first click the "Outgoing Server" tab, and select "My Server Requires" authentication, and the default "Use same settings as my incoming mail server". (Do not select SPA).   Then click the "Advanced Tab on that screen.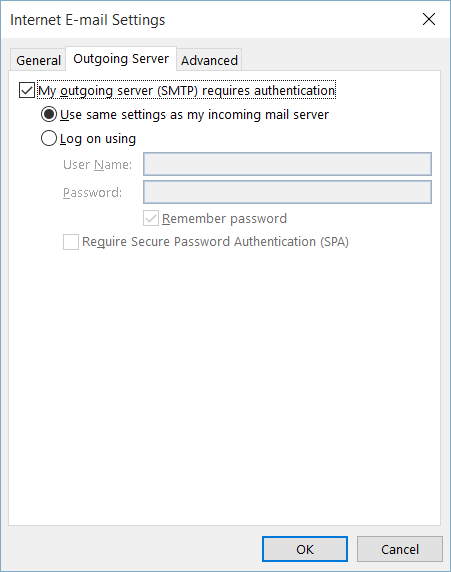 6. On the Advanced screen below:
a. Select encryption to Auto for incoming and outgoing email.
b. Leave the IMAP port at the default port of 143. If you have problems with port 143, try port 993  (for IMAP also).
c. Set the Outgoing SMTP port to 587 or 465
Many ISPs will block or redirect smtp connections on port 25; so you should set the SMTP port to 587 or 465
d. Click OK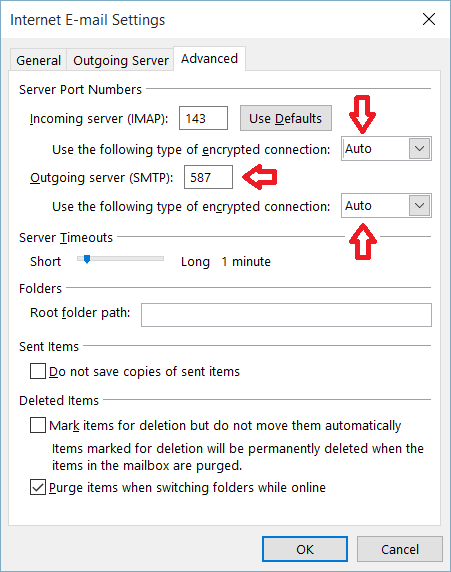 7. When you click Next, Outlook will text the account settings. It should show success on both.