Orders Page
Navigation:
Orders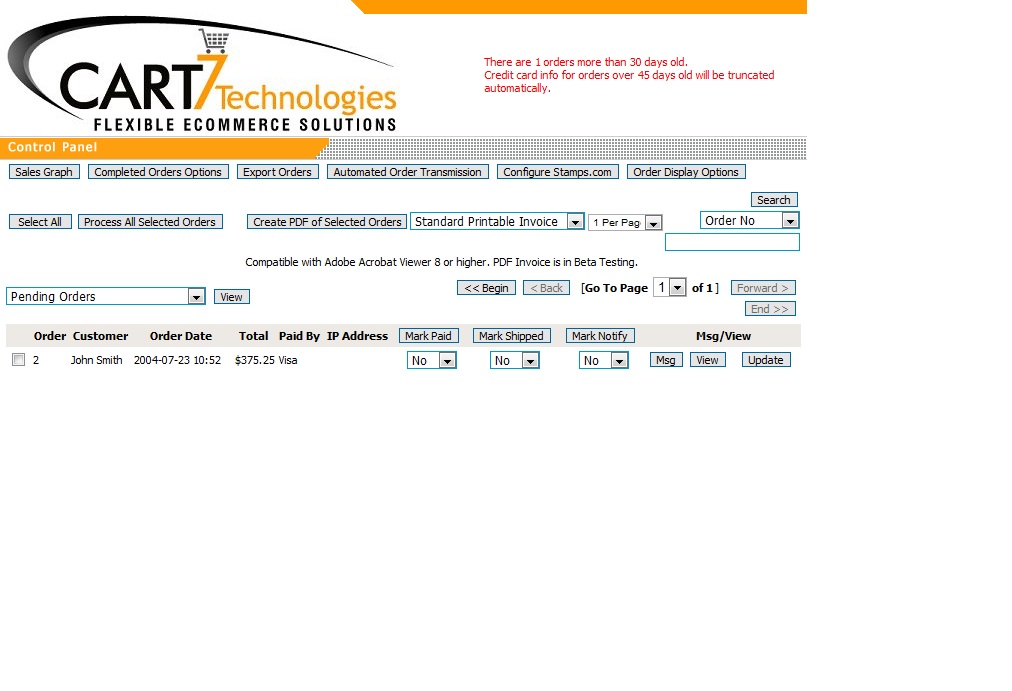 Overview of the Orders Page

The orders page let's you see a snapshot of the all your orders that have been placed. Shop owners can update the order status, create printable PDF's of invoices or packing slips , and create a Message (Msg) that is sent along
with the shipment confirmation email.

They can also filter the orders in the drop down bar with several options:
All Orders
Pending Orders
Orders Paid but not shipped
Orders Not Paid and not shipped
Orders Completed (Paid & Shipped)

Update Order Status
To mark completed:
Set the following to 'Yes':
Mark Paid (if your cards are not processed in real-time),
Mark Shipped,
Mark Notify (if you would like to send a shipment confirmation email)
Along with this email you can send a message (seen in the top pat of the email). Many shop owners use this feature to send tracking #.
Once you have made these changes, you are able to click the "The "Update" button.
View
The "View" button allows you to look at the details for an order. If you process cards through the 'Secure Checkout' form of checkout, you
would be able to view the card details here.
Click Here to learn about the 'View' button.
Search
There is also a search function which allows you search by Order Number, Invoice Number, Customer Email, or Last Name.